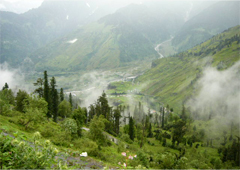 Manali…


Location of Manali: Himachal Pradesh
Important As: Himachal's famous Tourist Resort
Altitude: 2,050m
Places of Interest: Vashisth Hot Sulphur Spring, Rohtang Pass, Hadimba Temple
Best Time To Visit Manali: May To October.

40 kms. away from Kulu to the north, Manali is situated near the end of the valley on the National Highway leading to Leh. The landscape here is breath taking. One sees well-defined snow capped peaks, the Beas river with its clear water meanders through the town. On the other side are deodar and pine trees, tiny fields and fruit orchards. It is an excellent place for a holiday, a favorite resort for trekkers to Lahaul, Spiti, Kinnaur, Leh and Zanskar regions in Kashmir valley. It is known as the SWITZERLAND OF INDIA.

Manali is Situated at the northern end of the Kullu Valley, Manali has spectacular views of snowcapped peaks and wooded slopes. The Beas rushes along its rocky course amid grassy meadows carpeted with wild flowers and wagtails hop along from stone to stone along the stream's edge. There are marvelous walks too, through dappled orchards and fairy-tale forests of deodar.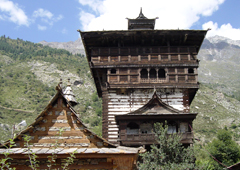 Kullu…
Location: Himachal Pradesh
Altitude: 1,220m
Main Attractions: Kullu Dusshera, Bijli Mahadev Temple
Best Time To Visit: Mid-May To Mid-October.

Kullu valley is gifted every thing that a tourist can imagine. The Marvelous landscapes, hospitable, peaceful & co-operative people having distinct life style & culture are some of the points that separate Kullu from rest of Himachal Pradesh. Kullu has also become the center of many adventure activities like trekking, mountaineering, river-rafting etc. There are many places of pilgrimage like Manikaran, Hadimba, Bijli Mahadev, Vashistha etc.