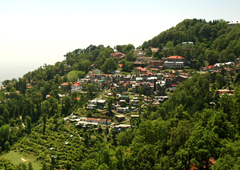 Location: Himachal Pradesh
Discovered In: 1854.
Founded By: Lord James Ramsay, Marquis Of Dalhousie, Khajjiar.
Best Time To Visit: Mid-May to Mid-October.

Dalhousie, also popularly referred to as 'A Governor General's gift', is situated at the foot of Dhaula Dhar. Dalhousie, gateway to Chamba and the land of milk and honey, has sparkling and numerous streams. It is built around upon 5 hills, covered with oak, conifers and other trees & shrubs. It comprises of 5 districts namely Balun, Kathloang, Potreyn, Tehra and Bakrota at heights ranging from 1525 meters (5000 ft.) to 2738 mts. (7800 ft.)




Dalhousie is famous for its natural beauty, enchanting valleys, and warm sunshine. On a clear day one can see the rivers – Chenab, Beas and Ravi.
STD code 01899
Area 13 sq. km
Altitude 2036 Mts.

Climate Summer Max 25.50c Min 15.50c Winter Max 100c Min 10c
Best season April -June & Sept –Oct
Clothing required Light woolen or tropical summer & heavy woolens in winter.
By Air Jammu and Amritsar airports are 190 km & 192 km from Dalhousie by road respectively
By Road It is well connected by road: Pathankot to Dalhousie-80 km, Dalhousie to Delhi-563 km, Dalhousie to Chandigarh-352 km

By Rail Nearest Railhead is at Pathankot
Over 120 years old, it owes its name to Lord Ramsey Marquis of Dalhousie.
Dalhousie's natural beauty, combined with warm sunshine, enchanting surroundings and its invigorating air, make it a hill station par excellence. Among the many places that are favored for a days outing, shootings, picnics, some important ones are:-

Subhash Baoli
This snow-capped mountain is 1.6 km from GPO square, having an altitude of 2085-m (6678-ft). One can easily climb up the mountain to take a look at the
spring of Subhash Baoli.

Satdhara
Satdhara means "Seven Dharas", in which Dalhousie abounds. It is at an altitude of 2036(6678 ft). A unique feature of these springs is that they contain mica and have certain medicinal properties. These seven sparkling and bubbling springs are on the way to Panjpulla.

Panjpulla
A Martyr's Memorial, it is 2 km from GPO square. This place is the hometown of Ajit Singh, the uncle of the Martyr Bhagat Singh, who was hanged by the Britishers during the war of independence. A samadhi of Ajit Singh was built on the spot where he collapsed. It is a picturesque spot where the water of a natural tank flows under five small bridges.

Jandhri Ghat
A ruler's palace, it is only half a km from Subhash Baoli and 2.1 km from GPO square. It is an elegant palace situated at an altitude of 2036-m (6678-ft)
Bakrota Hills and the 'Round'
The brisk walk round the hills known as "Bakrota hills", is a very mysterious and popular route with avid walkers. It has an altitude of 2085 m (6678 ft) and is 4.8 km from GPO.

Kalatope
It is popularly known as 'The ideal weekend retreat', which is one of the most magnificent picnic spot, at an altitude of 2440 m (8000 ft).

Dainkunt
The Crystal View Dainkunt is a towering peak from where one can get a clear view of the 3 rivers of Punjab namely Beas, Ravi and Chenab. It has a n elevation of 2745-m (9000-ft) and is 8.5 km from GPO square.
DALHOUSIE HOTELS

Snow Valley Resorts

Hotel Grace Mount

Hotel Ashiana Regency

Hotel Holiday Plaza

Dalhousie Retreat